Here is a quick way to check your cardiovascular health yourself.  The rate at which your heart rate recovers is an excellent indicator of how healthy your heart is.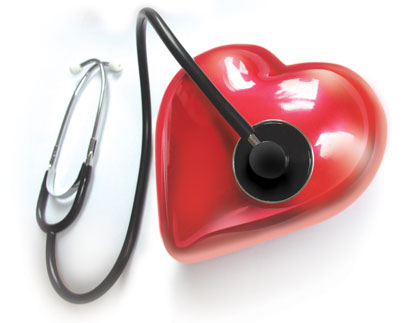 Exercise vigorously for five minutes and then take your pulse. Wait two minutes. Then calculate your heart rate again.
If you have an average level of fitness, it will drop by 55 beats.Well-conditioned people will see a higher drop, perhaps 70 beats. Generally the faster you recover, the better your fitness and the lower your risk of heart disease.
The best way to improve your heart health is not necessarily more, longer cardio though!
Once you have the conditioning to walk at a decent clip for 15-20 minutes, it is time to start adding interval training.  Interval training is simply mixing periods of harder exercise with easier recovery.  A sport like basketball is a perfect example.
What's more, Interval Training is awesome for fat loss as well.  That is why we incorporate it with our personal training and group workouts.  Better heart health And fat loss – count me in! =)